Wah Kya Nazare Lyrics by Harnoor ft. Gaby Fuego is Latest Punjabi song sung by Harnoor, Gaby Fuego and music of this brand new song is given by Kelly. Wah Kya Nazare song lyrics are penned down by Ilam while video has been directed by Sagar Deol.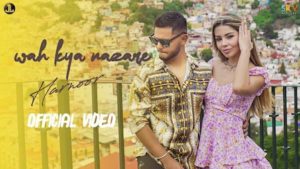 Wah Kya Nazare Song Details:
| | |
| --- | --- |
| Song: | Wah Kya Nazare |
| Album: | 8 Chances |
| Singer: | Harnoor |
| Lyrics: | iLam |
| Music: | Kelly |
| Label: | Jatt Life Studios |
Wah Kya Nazare Lyrics
Kelly!
Oh Wah Kya Nazare Hain
Wah Kya Nazare Hain
Utre Zameen Par
Aaj Yeh Sitaare Hain
Waah Kya Nazare Hain
Naar Sajjri Sajayi Jivein
Pariyan Di Jayi Jivein
Meharban Hoyi Ajj
Sadde Te Khudai Jivein
Suram Sulahi Jivein
Mashallah Khoobsurat
Yeh Bala Hai
Maarna Ke Chhaddna Tu
Dass Ki Salah Hai
Rakh Kude Padhda Tu
Re Methon Bach Ke
Kach Jahi Tu Meri
Pathar Nigaah Hai
Rang Kudrat Ne
Aap Hi Singaare Hain
Wah Kya Nazare Hain
Luki Jeon Talab Ni
Main Ghutt Ghutt Pee Gaya
Ankhan Tu Milaiyan Phir
Khaure Ho Ki Gaya
Bebas Hath Vass
Mere Kujh Reha Ni
Zindagi Te Maut Wali
Hadd Ajj Jee Gaya
Dulli Mekhaneyan Ch
Chadhi Jeon Sharaab Ae
Pyar De Sunehe Dindi
Vajjdi Rubaab Ae
Kare Ji Hazooriyan
Gulami Uthe Laa Leya
Aunda Jaanda Lokan Ch
Kahaunda Jo Janaab Ae
Hunne Kad Ilam Nu
Darsh Dubaare Hain
Sard Mausam Mein
Dil Phook Baithe Hain
Ilam Aashiq Hain
Sath Mein Lekar
Saboot Baithe Hain
Phir Ho Mulaakat Toh
Juda Humein Maut Kare
Tab Tak Daal Par Panchi
Malook Baithe Hain
Kelly!
Wah Kya Nazare Music Video
Written by:
iLam
Found Any Mistake in Lyrics?, Please Report In Contact Section with Correct Lyrics!
You may also like…